Welcome to Left Alliance electronic Party Congress elections for the Left Alliance Party Congress 2022!
If you are eligible to vote in the 2022 Left Alliance Party Congress elections, you will be able to cast your ballot on this page. In these elections the representatives of each constituency will be elected for the Party Congress held in Pori on June 10.–12. 
Read these instructions, before you vote.
All members of the Left Alliance who have paid their 2021 membership dues by 31 December 2021 are entitled to vote in the Party Congress elections (Left Alliance bylaws, section 16.) 
Electronic elections are held in fifteen constituencies, which are: 
South-Karelia (Etelä-Karjala) 21.3. – 3.4.2022
Helsinki 28.3. – 7.4.2022
Eastern and Central Uusimaa (Itä- ja Keski-Uusimaa) 28.3. – 7.4.2022
Jyväskylä 28.3. – 8.4.2022
Central Finland-South (Keski-Suomi-Etelä) 28.3. – 8.4.2022
Central Finland-North (Keski-Suomi-Pohjoinen) 28.3. – 8.4.2022
Kymenlaakso 21.3. – 3.4.2022
Western Uusimaa (Länsi-Uusimaa) 28.3. – 7.4.2022
Pirkanmaa-South (Pirkanmaa-Etelä) 28.3. – 8.4.2022
Pirkanmaa-North (Pirkanmaa-Pohjoinen) 28.3. – 8.4.2022
Northern-Karelia (Pohjois-Karjala) 21.3. – 3.4.2022
Northern-Savonia (Pohjois-Savo) 21.3. – 3.4.2022
Tampere 28.3. – 8.4.2022
Turku 23.3. – 29.3.2022
Vantaa 28.3. – 7.4.2022
In these constituencies you can also vote by mail. Contact your local party district executives or employees for more information on voting via mail.  
In the party districts of Lapland (Lappi), Kainuu and Northern Ostrobothnia (Pohjois-Pohjanmaa), elections are held entirely via mail. Electronic voting is not possible in these districts. 
In constituencies, where the amount of candidates was smaller than the amount of representatives before a deadline than those districts elect, no election of party representatives will be held. 
Logging in to the voting service. 
You can vote by logging in to the electronic voting service. 
Your username will be the e-mail address registered in the party membership directory. If you have forgotten your password, you can order a new password by clicking "Tilaa uusi salasana" -link. (Order a new password) 
You can also log in by using your mobile phone number registered in the directory. In this case you will receive a single use login code via SMS. 
Note! When you log in via SMS, enter your phone number in the following format: 0401234567, without the international +358 -area code. 
Casting a ballot
After logging in, you will be directed to the following view, showing the elections in which, you have right to vote.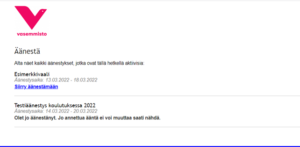 At this point, please make sure, that you have right to vote only in your own constituency. If the view shows an election in a contituency, which you don't believe to be a member of or you are missing an election that you think the system should show to you, please contact the election service. Contact details are on the bottom of this page.
If the information is correct, click "siirry äänestämään" (go to vote) 
The voting view looks like this: 
Number the candidates in order of preference, starting with number 1. 
You may vote for as many candidates as there are elected representatives from your constituency or up to maximum of ten candidates. You are not required to vote the maximum number of candidates. In this case, however, the weight of your votes will decrease. (Left Alliance bylaws, section 17) 
When you have chosen your candidates, click "Siirry eteenpäin" (forward) 
You will be presented a summary of your ballot: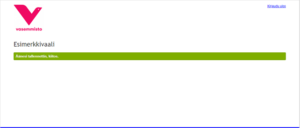 The Party Assembly elections follows a personal, proportional electoral system in which the number of votes of the first-ranked candidate equals the number of votes casted in the ballot, the number of votes of the second-ranked candidate equals the votes of the first-ranked candidate minus one, the number of votes of the third-ranked candidate is the number of votes of the first-ranked candidate minus two and so forth. (Left Alliance bylaws, section 17) 
If you are satisfied with your ballot, click "vahvista äänesi" (confirm your vote) 
If you wish to edit your ballot, click "palaa takaisin" (return) 
When you have confirmed your vote, the following view loads: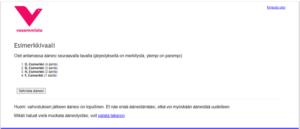 Congratulations! You have succesfully voted in the first electronic Left Alliace Party Congress elections! Remember to log out of the service by clicking "Kirjaudu ulos" (Log out) on the top right corner of the screen.  
To consider
The electronic voting of all the party constituencies is handled through the voting service. Only information available of the candidates is their last name and the first name. 
It is up to party district organizations and the candidates themselves to present the candidates in more detail. For more information about your local candidates, please refer your district communications or district executives and employees. 
If you need technical assistance regarding the election, please contact: 
Vesa Plath p. 040 629 9190

Juuso Aromaa p. 040 701 5512

Milka Tommila p. 040 821 2002